House Calls
Experienced doctors in Brooklyn, Queens, Kings, Manhattan, The Bronx, and Staten Island New York providing safe and secure house calls to your home.
Doctor House Calls in Brooklyn and Queens
Call Now: 877.471.9091
House calls gives the doctor a unique opportunity with patients that they don't get in an office visit or during hospitalization. A house call fosters the doctor/patient relationship and improves the doctor's understanding of the patient's environment and support systems.
Benefits of house call programs were demonstrated when they were multidimensional and included multiple visits. Our approach is based on the VA's uses of multidisciplinary care team to serve older patients in the home.
The VA has demonstrated fewer hospital admissions, shorter lengths of stay, reduction in readmission rates, and reduction in long-term care facility stays.
Multidisciplinary teams and inclusion of a physician and nurse practitioner are important factors to reduce inpatient days.
NYC Home Medical Services
Primary Care/Routine Care
Urgent Care
Nutritionist
Wound Care
Blood Work
Echo
EKG
Sonograms
Ultrasound
X-ray
Why Do Patients Need a House Call?
Patient is homebound.
Patient is not mobile or has difficulty ambulating.
Patient is using some mobility device.
Patient is disable or otherwise not capable of visiting a Doctor's Office.
Physician needs to assess home environment, and patient and caregiver function
Types of House Calls
Patient assessment (e.g., polypharmacy, multiple medical problems, excessive health care use, social isolation, frailty, suspected abuse, suspected neglect or self-neglect, need for family meeting, recent major change in health, consideration of long-term care admission).
Illness management for homebound patients (emergency, acute, or chronic conditions).
Terminal patients (e.g., palliative/terminal care, death pronouncement, grief support).
Concierge services (e.g., health promotion, disease prevention).
Visits can be performed once or ongoing for patients with chronic or terminal conditions.
Will My Insurance Cover the House Calls?
Most insurance carriers cover House Calls for people who are homebound. The Medicare definition for Home Bound is below.
For children or young adults, visits by insurance may require Insurance Authorizations. If you don't have insurance, call us and we can guide you on getting your visit today.
Medicare Definition of Homebound
To be eligible for home health services, a Medicare beneficiary must:
Need intermittent skilled nursing care; or physical, speech, or occupational therapy
Be confined to the home (e.g., normal inability to leave; requires considerable and taxing effort to leave; requires supportive devices like canes, wheelchairs, and walkers to leave; requires special transportation to leave; requires help from another person to leave; medical contraindication for leaving the home)
Be under a plan of care established and periodically reviewed by a physician
Receive the services from a Medicare-participating home health agency
Additionally, the following should not disqualify a person from being considered confined to the home:
Participation in therapeutic, psychosocial, or medical treatment in an adult day care program that is licensed or certified by the state
Any other absence from the home that is infrequent or of relatively short duration; any absence for the purpose of attending a religious service shall be deemed to be an absence of infrequent or short duration; any absence for the purpose of attending a religious service shall be deemed to be an absence of infrequent or short duration.
Who can request the House Call Visit?
Patient, family member or member of the home health team can request a house call.
We Bring the Doctor to Your Home
Are you unable to get to a Doctors office?
Do you have a chronic condition?
Did you recently have an operation?
Were you recently discharged from the Hospital?
Call us or click below and schedule on of our trusted doctors to diagnose and treat you in the comfort of your own home.
Medication Delivery
Through AG Urgent Care and Knapp Pharmacy, you can have your medication delivered right to your door. Call (718) 513-6178 or visit knapprx.com.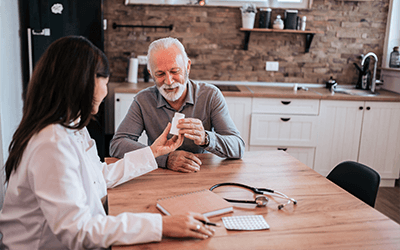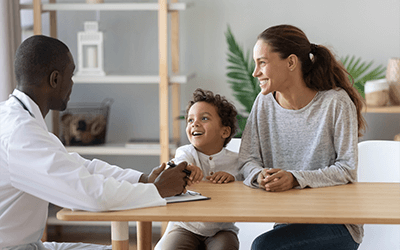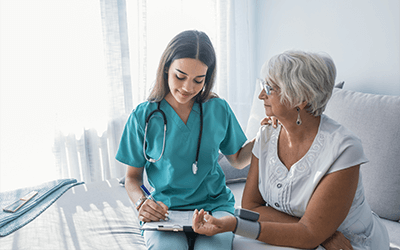 What to Expect During Your NYC Area House Call
With AG, you should expect a knowledgeable, and professional Doctor or Nurse Practitioner to assess, evaluate and treat you with care.
We will review the following:
Impairment/Mobility
Nutritional Status and eating habits
Home environment
Medications
Physical Exam
Safety Exam
Communication with your caregiver
Spiritual health
Home Medical Supplies and Devices in Brooklyn
Through AG Urgent Care and Alba Medical Supply, you can have in-home medical supplies and devices delivered right to your door.
Visit albasupplies.com, call 718-252-4120, or ask your doctor.
Remote Patient Monitoring
Real-time at-home care via our smart phones, diagnostic machines, and wearables to collect real-time data and provide better access to healthcare.

Doctor In-Home Visit
AG Urgent Care has urgent care centers near your home in Brooklyn and Queens so that you can receive rapid home visits from our experienced doctors and staff.