Urgent Care in Brooklyn and Queens
Urgent care centers in Brooklyn and Queens New York providing walk-in urgent care services, primary care, checkups, and prescriptions. Our New York urgent care walk-in clinics are locally owned and operated to provide you the best urgent care and primary care thoughout Brooklyn and Queens.
Quick and efficient awesome staff Dr Ashley and Megan and Elizabeth made me feel welcomed
Great customer service, i really recommended it, any medical issue go see them you wont regret: Nurse Elizabeth and Dr Ashley
Staff's are professional ,caring,supportive and also knows how to let us as patient feel at home so thank you to doctor dollison and mis carleen
Great service from Elizabeth at the front desk and Ashley the physician.
Dr.Betton is an awesome doctor that needs her own practice!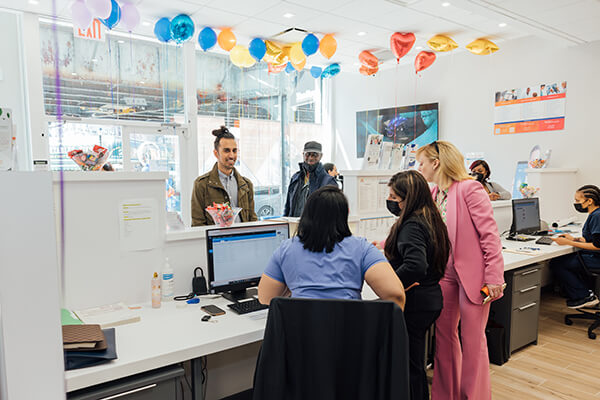 Common Reasons for Urgent Care Center Visits
Some general categories of illnesses that may require urgent care treatment include the following:
Minor injuries and ailments such as sprained ankles
Stomachaches
STD testing
Broken bones
Diarrhea, vomiting, nausea
Diabetes
Asthma
Animal bites
Auto accidents
Slip and fall injuries
Other non-life-threatening medical issues.
Find An Urgent Care Center Near You
If you're in need of an urgent care facility in the Brooklyn and Queens area, you may be wondering what makes a good one. A good urgent care facility should have many qualities that make it exceptional including location, number of services available (so you don't have to jump around to other locations), wait time, and number of doctors available.
Fortunately, AG Care has excellent, updated urgent care facilities conveniently located within the boroughs of Brooklyn and Queens. AG Care facilities provide excellent services at affordable prices while offering higher quality care than your typical walk-in urgent care center.
AG Care offers services for those with most insurance coverages as well as affordable pricing if you are paying out-of-pocket.
Expensive
Emergency rooms can be very expensive, especially without insurance, and usually don't offer up front pricing.
Affordable
AG Urgent Care centers offer you up-front pricing and convenient ways to pay, even if you are uninsured.
Long Wait Times
Emergency room waits times average 1-2 hours, and can be quite a bit longer.
Easy Access
AG Urgent care centers are located conveniently in neighborhoods throughout Brooklyn and Queens and provider shorter wait times than emergency rooms.
Limited Services
Emergency rooms focus on life-threatening issues, and generally don't offer many non-emergency services that urgent care centers provide.
Urgent Care +
AG Care provides urgent care plus primary care, pediatrics, physicals, tests, shots, home visits, virtual visits, and much more.
Affordable and Convenient Urgent Care in Brooklyn and Queens NY
A good Brooklyn urgent care facility will allow you to access quality medical care without breaking the bank.
Even if you don't have insurance, AG Care offers payment plans that allow patients without insurance to access medical treatment without fear of severe debt, or worse, not getting treatment.
Our urgent care centers also specialize in specific areas, including breaks and sprains, foot fractures, work injuries, school injuries, and more.
This makes our medical facilities ideal for those with specialized needs, including elder care, urgent care for kids, and workers' compensation injuries.
Why Visit an Urgent Care Facility?
The short answer to this question is that it depends on your illness and your desired level of care.
Urgent care centers are generally more convenient and much cheaper than emergency rooms.
Walk-in care centers also offer most primary care services.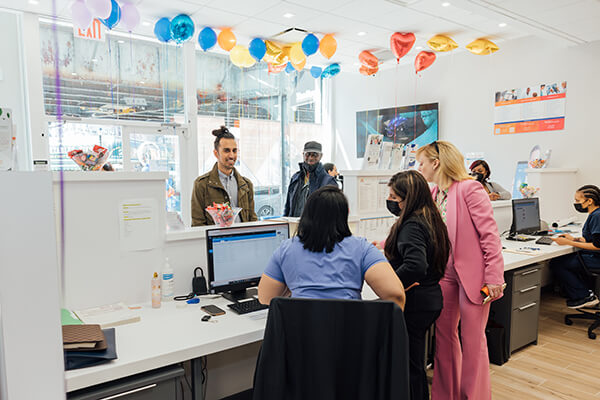 What is an Urgent Care Facility?
An urgent care facility provides medical care for minor illnesses, injuries, and other ailments. In some communities, urgent care is called "urgent care centers" or "walk-in clinics," but these terms are often used interchangeably.
Most urgent care centers offer walk-in service, meaning that you do not need an appointment to visit one.
AG Care urgent care centers accept walk-in patients, but you can also check in online to fill out forms, etc. beforehand which can make your visit go more quickly.
If you are able to take advantage of our walk-in service, you can arrive at our Brooklyn urgent care centers at any time and be seen right away.
Why Choose AG Care for Urgent Care Services in Brooklyn?
If you're in need of urgent care services in Brooklyn and Queens, we know you have many options.
In addition to offering quality medical care, our medical centers offer preventative health options such as weight management and weight loss as well as mental health and life coaching professionals.
AG includes many services other walk-in centers do not offer including primary care, DOT physicals, immigration physicals, and school physicals.
We are locally owned and operated, and we look forward to serving our neighbors each and every day!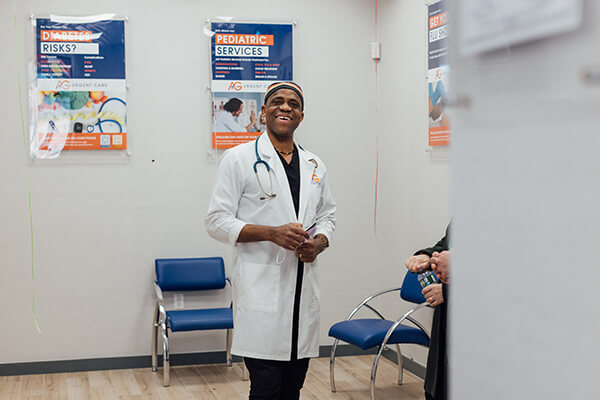 AG Care Brooklyn Urgent Care Locations
AG Care provides Brooklyn urgent care services at 5 convenient locations including one location in Queens. Our Brooklyn walk-in clinics are conveniently located in Brownsville, Bushwick, Flatbush Junction, Prospect Lefferts, and our Queens urgent care location in Jamaica.
All of these Brooklyn urgent care centers provide fast, affordable urgent care. In addition to our walk-in clinics, we also have telehealth options to visit the doctor from your phone, affordable pharmacy partners, and medical supplies for at-home care.
For chronic conditions, we offer house calls (provided by a doctor, registered nurse (RN), or specialist) and remote patient monitoring where our team monitors vitals, coordinates medication schedules, and provides video medical care visits.
Brooklyn Area Prescriptions
Through AG Urgent Care and Knapp Pharmacy, you can conveniently pick up your prescriptions in Brooklyn or have your medication delivered right to your door.
Visit knapprx.com or call 718-513-6178.
Brooklyn Home Medical Supplies
Through AG Urgent Care and Alba Medical Supply, you can have in-home medical supplies and devices delivered right to your door.
Visit albasupplies.com or call 718-252-4120.
Visit a Brooklyn Urgent Care Center Near You Today
AG Care has urgent care centers near your home in Brooklyn and Queens so that you can receive rapid urgent care.